St Helen's Driving Test Routes
Route-LED is a test-route supplier for a wide range of devices including, Garmin Sat Nav, iPhone, Android and Tomtom for motorcycles, driving and taxi. To improve our service delivery and ensure that our local test routes are up to date, we work close with local learning drivers and instructors based in Liverpool. We intend on adding Satnav and Independent driving routes to our products soon.
Cost of lessons, high insurance premiums, practical and theory lessons, can be quite pricey! At affordable rates we offer you driving test routes that you can use to improve your driving skills, while reducing the cost of driving lessons.
Route-Led is the number one supplier of Sat Nav driving test routes in the UK
2020 St Helen's Test Routes Available
To ensure our test routes are up to date, we work side by side with local driving instructors and learner drivers. We are also always open to feedbacks from our clients with respect to any product that we offer.

Driving Test Routes - Sat Nav
From December 4 2017, UK driving test routes will include the following SatNav directions. As the number one supplier of Sat Nav test routes in the UK, we supply numerous routes for Garmin and Tomtom devices. For those who want to purchase Sat Nav devices,we highly recommend the Tomtom Start 52, mainly because it is the number one pick for the St. Helen's driving test examiners.

Driving Test Routes - iPhone
Route-LED has made practising test routes much easier, using an iPhone device by availing the iPhone test routes. All you have to do is to download our iphone format file, and then use a recommended application to access the test routes. Follow the step by step guide. Your iPhone device will navigate you through St. Helen's test center, all around the test route and finally back to the test center. While using our test routes, you will be navigated safely with the voice guided directions to St Helen's test centre.

Driving Test Routes - Android
By downloading our recommended android application, you will be able to easily use our test routes. Download the recommended applications and instantly begin testing your driving skills today. Our turn by turn directions will allow you to concentrate on improving your driving skills, while getting to experience the test conditions.
Practising St Helen's 2020 Test Routes
As a service oriented company, we supply our clients with additional support for our driving test routes. Using our test routes allows the users to experience the junctions, corners and roads that they will encounter during their driving tests.
To assist the learner in learning how to drive safely and to also pass the driving test, we highly recommend an experienced driving instructor. How it works
Check out our short video to see how we can help!
The independent driving routes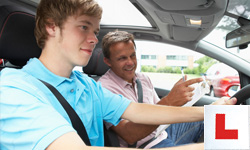 When you ask for the directions for the second time, the examiner will repeat then for you.
When you go off the independent driving route, it is not going to have any impact on your test results, unless you commit a traffic offence or driving fault. If you make a wrong turn or take a wrong route, the examiner will assist you in getting back to the route.
In case of obscure or poor traffic signs, the examiner will direct the examinee, until they arrive at the next visible traffic sign. The examinee does not need to have a detailed knowledge of the area.
One cannot use SatNav for independent driving, mainly because it gives one turn by turn prompts. The independent driving will test the ability of the examinee to make independent decisions.
St Helen's Driving Test Centre
The test centre is located at 1 Navigation Road, off Pocket Nook Street, St Helens. Ramp access to St Helens Driving Test Centre for wheelchair users. Male, female and disabled toilets available. Car parking facilities available.. It can be a busy area so expect to be driving on dual carriage ways and busy roads. Small town roads, roundabouts and one-way streets are likely to be used during your test. Using test routes whilst learning to drive can be very helpful, allowing you to practise on roads that you'll actually be driving during your test.
Note: Test centres do not always have a car park so plan your parking before your test.
Available Test Routes to Download
We can provide all test routes throughout Merseyside to help you pass... here are the routes from this test centre:
St Helens MPTC Car Routes 1-10
St Helens MPTC Car Routes 11-20
St Helens MPTC Car Routes 21-35
St Helens MPTC Extended Car Routes 26-28 & 40
St Helens MPTC ADI Routes 1 & 4
St Helens MPTC Motorcycle Routes 30-39
St Helens MPTC Taxi Routes 41-45
Pass Rates
| Year | Gender | Pass Rate |
| --- | --- | --- |
| 2017/2020 | Combined | 46.2% |
| 2017/2020 | Female | 43.4% |
| 2017/2020 | Male | 49.1% |
Sample St Helen's Car Driving Test Route
Car Test Route Number 10:
Location
Direction
DTC
Atherton St
Left
Cooper St
Left
Cowley Hill Lane
T/L ahead
Boundary Rd
T/L right
Knowsley Rd
3 rd right
Download the complete test here