Norris Green (Liverpool) Driving Test Routes
Route-Led is the one-stop spot for driving, taxi, motorcycles, Android and iPhone (iOS), and ADI for Garmin SatNav & TomTom devices test routes. Our active collaboration efforts with learner drivers and local instructors allow us to maintain our test routes in a state-of-the-art condition. What's more, our portfolio also expands to include SatNav and Independent driving routes.
Lesson fees, Practical and theory tests, and exorbitant insurance premiums have rendered learning to drive quite expensive. Nonetheless, with our exclusive test routes, these driving-related expenses can considerably decrease.
Route-Led is the number one supplier of Sat Nav driving test routes in the UK
Norris Green (Liverpool) Test Routes - 2020
Our close collaboration with both learner drivers and driving instructors have ensured that our driving (test) routes remain modern. We are ever open to any feedback on all our available courses.

Sat Nav Driving Test Routes
Sat Nav directions form part of our UK driving tests. We are the trusted route supplier for a vast majority of Garmin and TomTom devices. Our operations center on quality which is why the TomTom Start 52 is our preferred Satnav device choice. All our examiners possess this device also used in our tests.

Practise Driving Test - iPhone
Unlike before, it is now quite easy to utilize your iPhone in practicing your driving test routes. Start by downloading the iPhone format, follow by opening in the app recommended, and finally follow the turn-by-turn navigation for Norris Green test centre. Your iPhone can navigate you down to our test center, and across the test routes, down and back to our test center. It safely guides you with its turn-by-turn, voice-guarded directions.

Practise Driving Test - iPhone Android
You can now use our routes on any Android device by employing our recommended app. Just download the routes into your device directly and immediately kick-off your practice. With our turn-by-turn navigation, you can quickly focus on learning how to drive while you experience the test conditions.
Practising Norris Green Test Routes
Using our routes, you can experience junctions, roads, and conditions as is encountered during the driving test.
Aside from guiding you through to learning how to drive safely as well as passing your test, we also always recommend the use of a professional driving instructor. How it works.
Check out our short video to see how we can help!
Independent driving test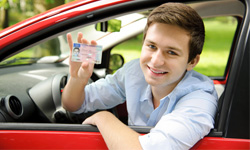 If you ask for a reminder of the directions, the examiner will confirm them to you.
During your test asking for help recalling the directions is acceptable, and our examiners are obliged to remind you.
The outcome of your driving test is not affected even when you steer off the independent (driving) route. In fact, the only way it is affected is only by committing a driving fault. The examiners will assist you in steering back on course in case you steer off or make a wrong turn from the route.
Where the traffic lights are obscured or poor, you will receive directions from the examiner until your next traffic sign stop-you need not be widely familiar with the area. Note: A SatNav is not usable for independent driving since it provides you with turn-by-turn prompts. This test (Independent) is purposed to assess your ability to make decisions-unaided!
Norris Green Driving Test Centre
You can find Norris Green 5 minutes from Junction 4 of the M57 off Parthenon Road. The test will typically involve the A580 and Queens drive, large and small roundabouts, small-town roads, as well as one-way streets. Using our driving test routes will not only save you money learning to drive it will also help you prepare for your driving test by driving local raods used on your test.
Note: Not all Test centres have a car park so plan your parking before your test.
Available Test Routes to Download
Find a list of test routes available for Norris Green
Norris Green Car Routes 1-12 (2020)
Norris Green Car Routes 1-5
Norris Green Car Routes 6-10
Norris Green Car Routes 11-15
Norris Green Car Routes 16-20
Norris Green Extended Car Route 21
Norris Green Motorcycle Routes 1-4
Pass Rates
| Year | Gender | Pass Rate |
| --- | --- | --- |
| 2017/2020 | Combined | 43.9% |
| 2017/2020 | Female | 42.3% |
| 2017/2020 | Male | 45.6% |
Sample Norris Green (Liverpool) Car Driving Test Route
Car Test Route Number 10:
Location
Direction
DTC
EOR right
Parthenon Drive
T/L ahead
Lorenzo Drive
Roundabout right 3 rd exit, T/L right
Muirhead Avenue East
Left
Eaton Rd North
EOR left
Right
Right
Download the complete test here