Enfield Driving Test Routes
Examiners tend to use the most difficult route and traffic system, which are within your local area. Most of these routes can prove to be a challenge to experienced drivers as well as learner drivers. Route LED has been developing test routes for several years now for examiners and driving students as well. By downloading our test routes, you will get the knowledge of driving in the most difficult and challenging areas.
Supported Devices
Download driving test routes into your preferred device from our website. Our routes support a wide range of devices including iPhone, Android and Tomtom and thus you can easily navigate through the test route used by local Enfield examiners.

TomTom & Garmin Sat Nav Devices
Our pre programmed routes for your Tomtom Sat Nav device will guide the learner from the local test center and then through the test route. The Tomtom test route are used by local Enfield examiners during driving tests. Considering examiners know these local routes more than anyone else, they aid us in developing these test routes.

iPhone
Access your local Enfield test centre routes on your iPhone device and get familiar with the route that you will use during your driving test, to access Enfield test route from your iPhone device you must download a supported application.

Android
Enfield test route for android devices can be downloaded on our website. The preprogrammed route will guide you accordingly during your practise sessions.
Enfield Test Routes Support
At Route-Led we supply additional support with our driving test routes. Using our routes will allow you to experience conditions, roads and junctions that you'll encounter on your driving test.
We always recommend using a qualified driving instructor in addition to help you learn to drive safely and help pass your test. How it works
Check out our short video to see how we can help!
The Independent Driving Test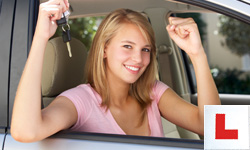 The independent driving test allows the examiner to test the student's ability to drive independently. While undertaking the independent driving test, the student is expected to use road signs and road markings without any form of assistance. In December 2017, the independent driving test was increased from ten minutes to twenty minutes, which is almost half of the entire duration of the entire driving test.
Previously, the examiner expected the student to follow instructions from a map. However, after the independent driving test was revised, the student is expected to follow road signs, during the test. The independent driving routes, where the student is expected to follow road signs will include clearly visible road signs.
If any of the road signs will not be visibly clear, then the examiner will update the test route accordingly. If you are uncertain about the test route or where you are expected to go, then you should request the examiner to repeat the instructions.
You can't use a SatNav for independent driving as it gives you turn-by-turn prompts. Independent driving tests how you make your own decisions.
Enfield Driving Test Centre
The test centre is located at Bell Lane, Dennison Road. The test centre is easily accessible within 5 minutes of the A38 and A30 dual carriageways. It can be a busy area so expect to be driving on dual carriage ways and busy roads. Small town roads, roundabouts and one-way streets are likely to be used during your test. Using test routes whilst learning to drive can be very helpful, allowing you to practise on roads that you'll actually be driving during your test.
Centre address:
Enfield MPTC Test Centre, Solar Way, Innova Park Business Centre, Enfield, Middlesex, EN3 7XY
Approx test waiting time:
5 weeks
Find other local test centres:
https://www.gov.uk/find-driving-test-centre
Note: Test centres do not always have a car park so plan your parking before your test.
Test Route List
We can provide all test routes throughout Cornwall to help you pass... here are the routes from this test centre:
Enfield MPTC Car Routes 1-20
Enfield MPTC ADI Routes 1-5
Enfield MPTC Motorcycle Routes 31-40
Enfield MPTC Extended Car Routes 21-22,28-30
Enfield MPTC Taxi ROutes 41-42
Pass Rates
| Year | Gender | Pass Rate |
| --- | --- | --- |
| 2017/2020 | Combined | 36.0% |
| 2017/2020 | Female | 32.4% |
| 2017/2020 | Male | 40.1% |
Sample Enfield Car Driving Test Route
Car Test Route Number 11:
Location
Direction
DTC
EOR left
Mollison Ave
2 x roundabout ahead, roundabout left
Lea Valley Rd
2nd T/L right
Maida Ave
EOR left, EOR right, left
College Gardens
2nd right
Nevin Drive
EOR right
Download the complete test here