Bodmin Driving Test Routes
Route-Led supplies test routes for driving, motorcycle, taxi and ADI for TomTom & Garmin SatNav devices, iPhone (iOS) and Android devices. We work closely with local Cornwall instructors and learner drivers to keep our Bodmin driving test routes up to date. Independent driving and Satnav routes will also be added to our products.
High insurance premiums, the cost of lessons, theory and practical test learning to drive is expensive! Using our driving test routes can considerably reduce the cost of learning to drive.
Route-Led is the number one supplier of Sat Nav driving test routes in the UK
Available Bodmin Test Routes
Working closely with driving instructors and learner drivers enables us to keep all our Cornwall driving test routes up to date. We would always welcome any feedback on our routes that we supply.

Satnav Driving Test Routes
From 4th December 2017 the UK driving test includes following SatNav directions. At Route-Led we supply routes for a large selection of TomTom and Garmin devices. If you're looking to purchase a Satnav device we recommend the TomTom Start 52, This device has been supplied to all examiners and is now being used for Bodmin driving tests.

iPhone Driving Test Routes
Using your iPhone to practice driving test routes is now easier than ever! Simply download our iPhone format, open in the recommend app and follow the turn-by-turn navigation. Your iPhone navigates you to Bodmin test centre, around the test route and back to the test centre. you're navigated safely with voice-guided, turn-by-turn directions.

Android Driving Test Routes
Using our recommend app you can now use our routes on any Android based phone. Download routes direct to your device and start practising today. Turn-by-Turn navigation allows you to concentrate on learning to drive while experiencing test conditions.
Practising Bodmin Test Routes
At Route-Led we supply additional support with our driving test routes. Using our routes will allow you to experience conditions, roads and junctions that you'll encounter on your driving test.
We always recommend using a qualified driving instructor in addition to help you learn to drive safely and help pass your test. How it works
Check out our short video to see how we can help!
The independent driving route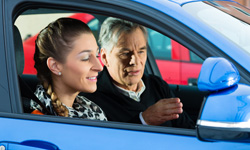 If you ask for a reminder of the directions, the examiner will confirm them to you.
If you go off the independent driving route it won't affect the result of your test unless you commit a driving fault. If you go off the route or take a wrong turning, the examiner will help you to get back on the route and continue with the independent driving.
If there are poor or obscured traffic signs, the examiner will give you directions until you can see the next traffic sign - you won't need to have a detailed knowledge of the area.
You can't use a SatNav for independent driving as it gives you turn-by-turn prompts. Independent driving tests how you make your own decisions.
Bodmin Driving Test Centre
The test centre is located at Bell Lane, Dennison Road. The test centre is easily accessible within 5 minutes of the A38 and A30 dual carriageways. It can be a busy area so expect to be driving on dual carriage ways and busy roads. Small town roads, roundabouts and one-way streets are likely to be used during your test. Using test routes whilst learning to drive can be very helpful, allowing you to practise on roads that you'll actually be driving during your test.
Note: Test centres do not always have a car park so plan your parking before your test.
Available Test Routes to Download
We can provide all test routes throughout Cornwall to help you pass... here are the routes from this test centre:
Bodmin Car Route 14
Bodmin Car Routes 11-13
Bodmin Car Routes 1-5
Bodmin Car Routes 6-10
Bodmin Extended Car Route 21
Bodmin Motorcycle Routes 1-4
Pass Rates
| Year | Gender | Pass Rate |
| --- | --- | --- |
| 2017/2020 | Combined | 46.6% |
| 2017/2020 | Female | 44.8% |
| 2017/2020 | Male | 48.5% |
Sample Bodmin Car Driving Test Route
Car Test Route Number 11:
Location
Direction
DTC
Left
Dennison Rd
2nd left
Finn Vc / Robartes Rd
EOR left
Beacon Rd
4th Left
Harleigh Rd / Marks Drive
EOR left
Harleigh Rd
EOR left
Download the complete test here