Basildon Driving Test Routes
A leading test-route supplier in the UK, Route LED creates driving test-routes compatible with a number of modern devices including iPhones, Mac, PC, Tomtom and Garmin Sat Nav devices.
Whether you are an experienced driver who wants to get acquainted with Basildon routes for your vehicle or motorcycle, or a novice driver who wants to pass his driving test, then Route LED has got you covered. Our test drive routes for your upcoming test will let you save both time and money.
Route-Led - The number one supplier of Sat Nav driving test routes in the UK
Driving Test Routes - Basildon 2021
With the assistance of local Basildon examiners who conduct tests on a daily basis on these routes and learner drivers, we are able to develop numerous high quality driving test routes for iPhone, Android, Garmin and Sat Nav devices.

TomTom & Garmin - Driving test routes
Before you take a driving test, it is important to know all your driving test routes. Knowing your driving test routes will not only boost your confidence but also ensure that you drive safely. Using our Sat Nav test routes is quite simple, mainly because you will have to follow the pre-programmed routes on your device while driving.

iPhone - Driving test routes
Route-Led test routes are available for a number of devices including your iPhone device. To access our test-routes, begin by first downloading a preferred software that you will use to access the file. Once the program is installed correctly, download, the Basildon test route to your iPhone device from our official website. Access the test route file downloaded using the preferred software. Basildon test centre.

Android - Driving test routes
Accessing our android test routes is quite easy and can be done using a recommended android software. Once you have installed your software on your device, you should then download the driving test route file from our official website. The pre-programmed routes on your android device will guide you through your test or practise session.
Basildon - Learn - Practice - Pass
It is widely known that most examiners prefer using the most difficult traffic systems and routes on the test routes which are within the radius of the test routes. Most of these routes can prove to be a challenge for experienced and learner drivers.
By gaining the experience of a test route or by loading the test route onto your SatNav device, you will gain the knowledge required to manoeuvre the challenging and difficult areas that you may encounter while taking your driving test. How it works
Check out our short video to see how we can help!
The independent driving test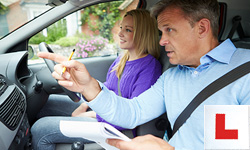 Independent driving test does not test your ability to follow directions. Moreover, an independent driving test does not test your ability to remember directions. If you ask the examiner for the directions, he will confirm them to you. Going off route will not affect your results in any way.
In case of an obscure or poor traffic sign, the examiner will give you the directions until the next visible traffic sign. One does not need to have a detailed knowledge of the region.
You are not allowed to use SatNav for independent driving, mainly because it gives one turn by turn prompts. The independent driving will test the ability of the examinee to make independent decisions.
Basildon Driving Test Centre Details
The test centre is located at 2 Paycocke Road, Basildon, Essex. Ramp access to Basildon Driving Test Centre for wheelchair users. Male, female and disabled toilets available. Car parking facilities available. Located close to the A127 dual carriage way the test centre is easy to locate. All test routes are within a 5 mile radious of the test centre, while practising you'll experience narrow town roads, oneway streets and busy junctions all of which will help you prepare for your driving test.
Note: Test centres do not always have a car park so plan your parking before your test.
Available Test Routes to Download
We can provide all test routes throughout UK to help you pass... here are the routes from this test centre:
Basildon MPTC Car Routes 1-5
Basildon MPTC Car Routes 6-10
Basildon MPTC Car Routes 11-15
Basildon MPTC Car ROutes 16-20
Basildon MPTC Motorcycle Routes 1-5
Basildon MPTC Motorcycle Routes 6-9
Pass Rates
| Year | Gender | Pass Rate |
| --- | --- | --- |
| 2017/2021 | Combined | 35.8% |
| 2017/2021 | Female | 35.2% |
| 2017/2021 | Male | 36.5% |
Sample Basildon Car Driving Test Route
Car Test Route Number 3:
Location
Direction
DTC
Paycocke Rd
EOR left
Gardeners Lane South
EOR, T/L right
Cranes Farm Rd
T/L ahead
Upper Mayne
Roundabout ahead
Nether Mayne
Roundabout left
Download the complete test here